Custom Design & Custom Assembly
For more than 50 years BICRON Electronics has focused on the design and manufacturing of custom, durable and reliable, high-quality products intended for rugged, long-life applications. 
We also develop and support reliable standard products.  But, it is our expertise at solving complex issues with enduring custom designs that sets us apart from other transformer producers.
Our design process follows a systematic Design for Excellence (DfX) methodology (see image below).  We include stage gates for customer and project management interface throughout the design process.  Beginning with a clear understanding of our customer's needs and expectations, every step is evaluated and confirmed as a design project moves through one stage gate to the next.
Designing highly reliable products for rugged, long-life applications requires engineering skill, knowledge of materials, and manufacturing expertise that are beyond the scope of a typical coil winder or transformer maker. We apply that skill and knowledge to every new design project we undertake, along with the goal of complete and enduring customer satisfaction.     
Take advantage of our Application Design Worksheets, provided for your use to communicate custom application requirements to our design engineers:
Consistent high quality is critical to the safety and reliability of our products.  Bicron has maintained continuous ISO certification since receiving initial approval in 1997. 
Currently certified under ISO9001:2015 standards, we operate our business with controlled processes, procedures, and systematic auditing.  Additionally, protecting a customer's intellectual property (IP) is one of our highest disciplines.
Bicron Electronics provides value-added services; complete assemblies that include our standard or custom transformers or solenoids. Our assembly services include turnkey, build-to-print contract manufacturing expertise or joint design and engineering services.
The advantages to using Bicron Electronics as an assembly partner are many, including reduced production costs and reduced inventory burden by purchasing a complete assembly. Also, making Bicron a production partner increases your efficiency by allowing you to focus on your core processes.
BICRON DFX Product Development Process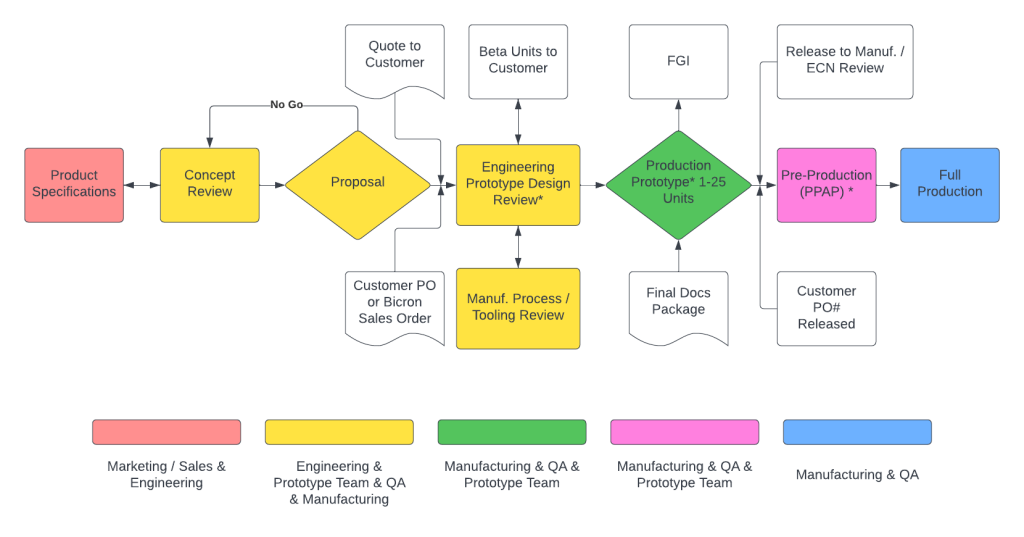 Our work culture is compelled by a desire to continuously improve everything we do every day, for each other and for our customers. If you are new to Bicron, please know that we value your interest and we will do our best to earn your business.